Event Details
Birth Center Tour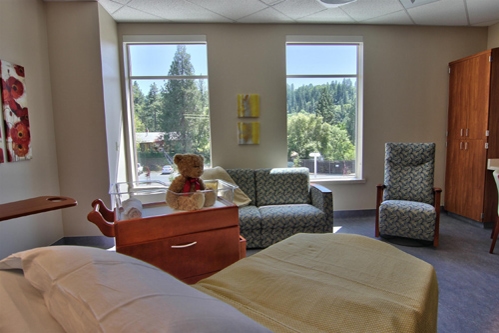 About This Event
Event Type:

Childbirth, Breastfeeding & Baby Basics Classes
Details:
Visiting the place where you're planning to give birth before you deliver gives you a sneak peek of exactly where you'll be and what will happen on the big day. You'll also get to meet some of the staff who may be helping you during your hospital stay.
Our Birth Center features large birthing suites - where mothers can labor and deliver in the same room - with an abundance of natural light. Rooms come equipped with both a whirlpool tub (to ease contraction pains) and a comfortable sleeper sofa (for spouse or support person). Aromatherapy is available to relieve nausea or headaches. Lactation consultants provide valuable breastfeeding instruction. Parents are also coached on the benefits of skin-to-skin contact with their newborn.
Sign up for a Birth Center Tour at any time during your pregnancy.
If you require special accommodations, please call 530-626-2963.
Check out our other Childbirth Education classes: Childbirth Education (In-Person), Healthy Pregnancy, Labor & Delivery, Breastfeeding, and Baby Care!
There is no charge for tours.
Registration is required.
Contact Information:
Please contact (530) 626-2990 or mhopson@marshallmedical.org.
Registration
Price:

Free

Registration Instructions:

Online Registration