Volunteer for Marshall
Click here for donation information.
You can donate to any of our volunteering programs. Donations help support various areas of the hospital such as our healing gardens, funds for new equipment, our Junior Volunteer Scholarship program, Marshall's mascot the Marshall Mouse, our Dogs on Call program and much more. Please indicate in the comments section where you would like your donated funds to go.
Marshall offers three different volunteer programs: Auxiliary, Adult and Junior volunteering opportunities. Information is provided about each below.
Employees and volunteers are committed to the organizational mission, goals, and standards to support quality healthcare and services. All three volunteer groups work diligently to meet the volunteer-related needs of the organization.
Why Volunteer?
Volunteering is an extremely rewarding experience. Satisfaction comes from knowing that you make a difference to patients, staff and the community.
You can also:
Learn new skills that will help you in your own life or career.
Form friendships with other volunteers, staff, and community members.
Increase your knowledge of Marshall Medical Center, the community and volunteering.
Marshall Hospital Auxiliary/Volunteers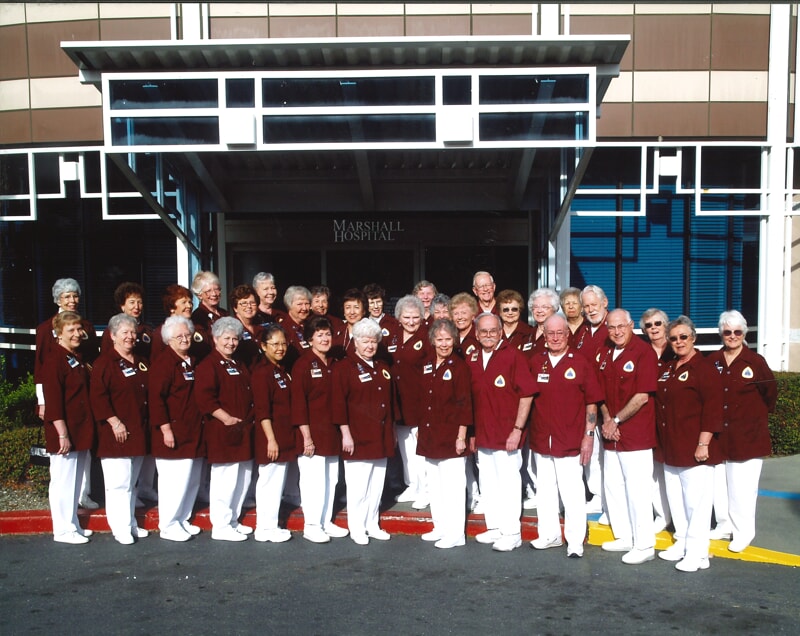 Are you looking for a place to spend some meaningful volunteer time in the hospital and make a significant difference in your community?
Then call Marshall Hospital Auxiliary at 530-626-2643.
We work in 13 different areas in the hospital and offsite facilities, committing to 50 hours of service per year.
We assist hospital staff and help our patients and visitors feel more comfortable during their stay at Marshall Medical Center.
If you are over 21, able to push a wheelchair and would like to be a member of a great group of people, call the above number for the current Membership Chairperson's information -- you'll be glad you did.
Adult Volunteer Program
The Adult Volunteer Program is for people 18 years of age and older who commit to at least one year of volunteer service.
Volunteer opportunities at Marshall Hospital or other Marshall facilities
Assist hospital staff, patients, and visitors
We are now recruiting for the following volunteer assignments;
Please click here to register for an information session. Volunteers are required to complete an orientation class, receive a health clearance, background check and participate in department specific training as appropriate.
Junior Volunteer Program
The Junior Volunteer Program is a year-round program for students 16-18 years of age Junior Volunteers volunteer in the hospital, our clinics, business offices and community events. Please note we currently have a waiting list for our Junior Volunteer Program. Please click here to be added to the Junior Volunteer waitlist.
Junior Volunteers are required to complete an information session with their parent/guardian, attend volunteer orientation, complete a medical clearance, submit a letter recommendation form, and complete department specific training as appropriate. Once enrolled, Junior Volunteers commit to volunteer 6 hours per month, afternoons, evenings and weekends. Junior Volunteers also commit to being the Marshall Mouse mascot, escort and participate in one of our community events. .
You can contact Volunteer Services at 530-344-5458 or mmcvolunteer@marshallmedical.org.
To apply to volunteer, click here.