Medical Weight Loss Program
The goal of medical weight loss is to lose five to 10% of total body weight. Scientific evidence shows that even this small amount of weight loss adds up to dramatic improvement in obesity related conditions as well as overall health. Some of the benefits you'll see include:
Cholesterol – a five point increase in HDL, or "good" cholesterol, lowering the risk of heart disease.
Hypertension – a lowering of blood pressure, both systolic and diastolic, by about 5mmHg on average
Diabetes – a decrease in A1C by about half a point, the same improvement as many anti-diabetic medications
Insulin Resistance – significantly less insulin in the blood
Obstructive Sleep Apnea – reduction in pauses and gaps in breathing during sleep, helping oxygenation
Inflammation – fat cells, especially abdominal fat cells, produce a large number of substances that result in inflammation. Modest weight loss helps reduce this inflammation.

Arthritis – help decrease pressure and inflammation of joints.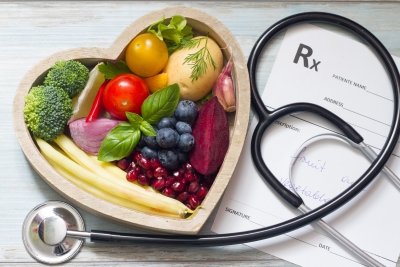 What is Medical Weight Loss?
Unlike other weight loss programs, medical weight loss is directed by a physician. Marshall Family Medicine Physician Tarandeep Kaur, MD, is Obesity Medicine trained in managing weight related conditions. Working with experts from the fields of nutrition and psychiatry, a comprehensive medical weight loss program leads to better outcomes.
Our medical weight loss program includes a personalized program overseen by a team of experts.
A medical evaluation by a physician
Treatment of possible medical issues for your weight gain
Laboratory blood tests
Body composition analysis
An EKG or bone density screening, if necessary
Prescription weight loss medication, if necessary
Nutritional counseling
Mental Health therapy, if necessary.
Am I a Candidate for Medical Weight Loss?
Anyone with a body mass index (BMI) of 30 or over can benefit from a medical weight loss program. Body mass index measures your body fat relative to your height and weight. Use this BMI calculator to see if your BMI is within the parameters for the program.
Weight Loss Management Nutrition Classes
The bundled program is taught virtually and begins with an eight-week Weight Loss Management series followed by a three-week Bariatric series. The fee for the program is $500, not covered by insurance but payment plan options are available. To register or to learn more, call Diabetes and Nutrition at 530 672-7021
Eight-Week Weight Loss Management Series
A weekly virtual class Tuesdays, 6-7 p.m.
May 9 - June 27
August 1 - September 19
September 26 - November 14
Three-Week Bariatric Series
Beginning two weeks after your Weight Loss Management class, a weekly virtual class Thursdays, 6-7 p.m.
May 11 - 25
August 3 - 17
September 28 - October 12
November 30 - December 14
Weight loss surgery may not be right for you
Unfortunately, weight loss surgery is not the solution for everyone. A commitment to long-term lifestyle changes is required or the procedure may be dangerous and even life-threatening.
Your physical and mental health will be assessed before surgery is approved. Pre-existing health conditions may increase the risk and complications after surgery and may disqualify you from weight loss surgery. The following health conditions must be identified and successfully managed before surgery:
Diabetes
Hypothyroidism
Severe or long-term (chronic) obstructive sleep apnea
Heart or lung disease
Depression, anxiety, substance abuse or other mental health conditions
Digestive tract disease, such as Crohn's disease, ulcers, or esophagitis
Liver disease
Chronic pancreatitis
Issues with excessive bleeding
Disqualifications can also include:
Being pregnant or planning to become pregnant within two years
Using tobacco or marijuana, drinking alcohol, or using illegal drugs
Using steroids over a long period of time or within the past 30 days
Having a mental health condition that is not successfully managed
Having a medical condition that makes surgery too risky
Having a BMI greater than 60 for females and 55 for males
Am I a candidate for weight loss surgery?
According to the National Institutes of Health and the American Society for Metabolic and Bariatric Surgery, bariatric surgery candidates:
Are more than 100 pounds over weight
Have a Body Mass Index (BMI) of 40 or greater or a BMI of 35-39.9, along with one or more medical conditions such as diabetes and/or hypertension which would improve significantly with weight loss.
Have tried and been unable to lose weight through diet and exercise
Are prepared to make a lifelong commitment to dietary, exercise and behavioral changes necessary for long-term success
Have no mental health conditions that may interfere with long-term weight loss success
Why do I need to meet with a psychiatrist before surgery?
Many bariatric surgery candidates have mental health conditions, which can get in the way of making the significant, lifelong changes in eating and physical activity needed to support successful bariatric outcomes. A pre-surgical psychosocial assessment conducted by psychiatrist Maisha Correia, MD, is an opportunity to prepare bariatric candidates for surgery.
During this evaluation, Dr. Correia will
help identify vulnerabilities (such as disordered eating behaviors like emotional eating),
provide support and education regarding what to expect following surgery (such as a warning about increased risk for alcohol use disorders) and
identify possible contraindications to surgery (such as active substance abuse or uncontrolled psychiatric illness).
This assessment helps Dr. Correia build a treatment plan with each candidate to facilitate the best possible outcome.
What results can I expect from bariatric surgery?
Each procedure will have a different outcome. On average, people lose 50-80 percent of their excess body weight in the first year depending on the type of surgery performed and the level of commitment to the post-surgical diet and exercise regimen.
As with any surgical procedure, there are risks associated with bariatric surgery. You and your surgeon will discuss specific risks related to your individual health condition and your selected surgical procedure.
What is gastric bypass surgery?
Gastric bypass is one of the most common types of weight loss surgery. The surgery alters the stomach, creating a small pouch that is connected directly to the small intestine. After surgery, food will bypass most of the stomach and the first section of the small intestine. A permanent change to diet is required to maintain weight loss and nutritional health. Because of the limited amount of capacity for food, patients will need to commit to eating healthfully and add nutritional supplements to their daily intake.
RISKS OF GASTRIC BYPASS SURGERY
Gastric bypass surgery has been proven to be successful in helping obese patients lose weight. Like all surgery, gastric bypass surgery involves risks such as malnutrition, stomal stenosis (the narrowing of the opening between the stomach and intestine) and "dumping syndrome" (where food gets dumped from the stomach into the small intestine without being digested). Peritonitis, or a stomach leak, is the most serious complication. Other risks include ulcers, hernias, blood clots and pulmonary embolism. Nutritional management, careful oversight of your health and quick reporting of issues to your doctor can help resolve these issues.
What is sleeve gastrectomy?
Sleeve gastrectomy is a weight loss surgery that removes 75-80% of the stomach. The procedure is done laparoscopically, through small incisions in the abdominal wall. The surgery divides the stomach, creating a smaller pouch with only 25% of the original volume. The reduction in stomach volume causes you to feel full faster and reduces the secretion of hunger hormones. On average, people lose 60-70% of their excess weight 12 to 24 months after surgery. As with any bariatric surgery, patients must adhere to a healthy diet and active living post-surgery.
RISKS OF SLEEVE GASTRECTOMY
As with any surgical procedure, complications can occur. Some possible complications include, but are not limited to: Infection, blood clots, pneumonia, bleeding ulcer, bleeding, leak, stricture (severe tightening of the sleeve) and worsening heartburn.
Considering medical weight loss or bariatric surgery?
Call 530-642-7546 (SLIM) for more information if you are significantly overweight and you're ready to make a change.