Max the Wonder Dogs Makes Cancer Patients Smile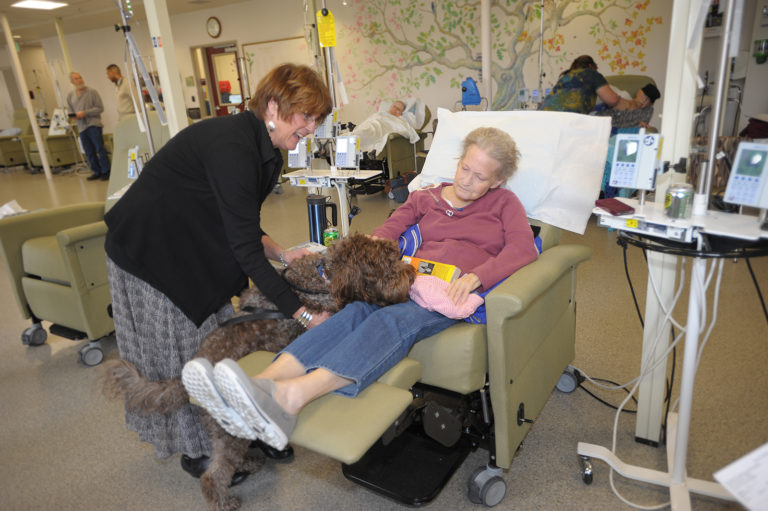 Being sick is never fun. But Max, a lovable Lab, tries to lighten the heavy burden of cancer patients and beyond with his pawsome personality.
Patients at the Marshall Cancer Center in Cameron Park are experiencing some relief with canine companion Max, a hypoallergenic 3-year-old Labradoodle with a beautiful mocha colored coat and brown eyes. He has wandered the halls brightening the spirits of the patients he sees for the last two years. He loves to greet everyone with a happy disposition and a wag of the tail.
Peggy Hatley has been a patient for some time at the center. Hatley first found out she had cancer 15 years ago, but that doesn't stop the soft spoken Alabama native (now residing in El Dorado Hills) from having a wonderful demeanor and looks forward to seeing Max.
"I have a Lab at home … I love dogs. I always try to say hello to him every time he comes in," she said with a smile.
Images of Hope Foundation founder and Director of Cancer Services Wendy Goossen said the facility improves lives.
The cancer center is impressive and welcoming, well lit and bright. A tree of life, complete with all four seasons and forest animals in a beautifully painted tree, adorns one of the walls of the infusion center for those who have passed away from cancer.
Beanies and wraps are hand-made for the center and offered to patients, as well as a wig or hat if they prefer.
"We have patient navigators and social workers. We also have two cancer specialists that set up rides for people and a car that we use to bring patients here from home. We drive the wheels off of it all day, every day," said Goossen.
Since Feb. 9, the Marshall Foundation for Community Health has asked internet surfers visiting its Facebook and Instagram sites to post pictures of their fur babies and make a donation in their name to the Marshall Medical Center pet therapy program.
"Contributors to the Give2theMax campaign can use a GoFundMe page to replenish the Max Fund," said Mark DeVaughn, public relations for Marshall Medical Center.
The Max Fund was launched in 2015, with its initial funding from Wells Fargo. The foundation, DeVaughn said, has enlisted younger volunteers to donate and promote the great cause.
"Spearheading the drive are the Marshall Junior Volunteers, a force of nearly 60 high school students who assist hospital visitors and provide clerical help at the various Marshall departments," he said. "Quality of life is so important in battling this disease, and Marshall Medical is committed to healing."
Karen Good, foundation director, said the Marshall Foundation for Community Health, which started in 1974, supports the Medical Center and the community.
" We put up to $1.7 million back into the community. We have donors that contribute to us, and with those generous gifts go to the programs," Good said.
The animal assisted therapy (the Max Fund) is one of those programs.
"It allows us to do pet therapy at Marshall Hospital and the cancer center. (Seeing Max) is the difference between a good and a bad day," Good said. "They have done studies on the effects of dogs with patients, and have found that sometimes there can be a 82 percent reduction in symptoms, so its huge. It's just a perfect thing for our patients to help them to heal and get back to a normal life."
Looking to the future, Good hopes add more furry friend for the animal assisted therapy program, and hopes to reach out to veterans with PTSD through the program.
"That is one of our goals; we do realize the impact is huge upon veterans. Being the patriotic citizens that we all are, we are very interested in getting into that field," Good said. "It's part of the reason we launched the Give2theMax campaign, so we could do more with pet therapy."