Social Work Alumni Provide Critical Care at El Dorado County Healthcare Provider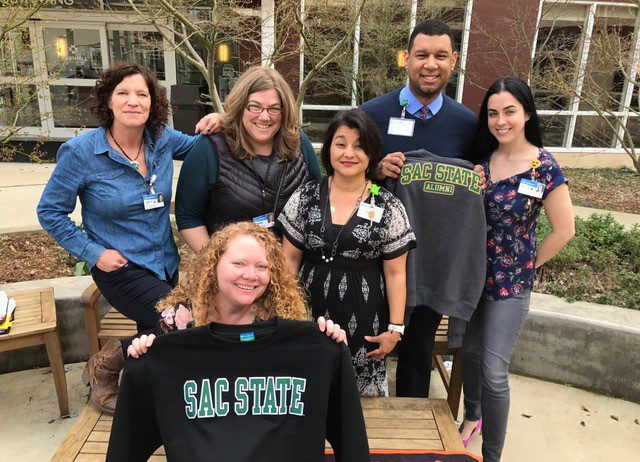 Sacramento State alums and Marshall Medical Center social workers Amy Buchanan (seated), Janice Curtin (standing, from left), Konnie Brown, Lhia Cassaza, Ray Martinez and Kellie Curnutt.
Just a short drive up Highway 50 from Sacramento State, a dedicated group of Hornets is hard at work helping the residents of El Dorado County navigate some of life's most difficult situations.
Six Sacramento State alumni and a faculty member, Robin Kennedy, are part of the eight-member social worker staff at Placerville's Marshall Medical Center, one of around 40 independent, acute-care hospitals remaining in California. And in a largely rural county that has one of the state's highest populations of elderly individuals, ensuring that patients have ready access to this type of caregiver is increasingly critical.
"We tend to see [patients] at their most vulnerable – physically, mentally, emotionally – and we get the opportunity to be present in that moment with them, find a connection and empower them to figure out where they are going and what they are doing," says Lhia Casazza, MSW '96 (Social Work). It can be challenging work, she added, since they must witness many of their patients pass away, but "we get the experience and the opportunity and blessing to be with them and know that we have some sort of impact on their lives, so they know they weren't alone."
Other alumni working at Marshall are Konnie Brown '94, MSW '03 (Social Work); Amy Buchanan '04, MSW '06 (Social Work); Kellie Curnutt '12, MSW '14 (Social Work); Janice Curtin, MSW '13 (Social Work); and Ray Martinez '14, MSW '16 (Social Work).
Casazza and Martinez reflect both the overall growth of social work at Marshall and a national trend. When Casazza started at the hospital in 2005, her department didn't visit the hospital's emergency room or OB/GYN section. Today, however, she and her colleagues are available to patients throughout the hospital, and Martinez was hired last year as the Marshall Cancer Resource Center's first full-time social worker. Curtin is an expert in the growing field of palliative care, which focuses on improving the quality of life for patients, and their families, facing advanced illness.
Martinez, who says he always has had a tendency to be the one to bring up difficult topics of conversation, was working as a paralegal in a law office that helped struggling individuals, many of them homeless, obtain social services. That's when he developed an interest in social work.
"I wanted to understand what's going on in their minds, and social work gave me a reference point for learning more about what they were dealing with in terms of homelessness, or having appointments to go to, or the lack of support they had to deal with," he says.
Casazza and Martinez said the classes they took at Sacramento State provided a solid foundation of basic skills, which they were able to put into practice when they had the opportunity to participate in internships while still students. And the University's location in California's capital city provided an additional benefit for Martinez.
"[The National Association of Social Workers] has social work lobby days in April, and I went to that one year," he says. "I learned what it takes to lobby for a bill, to go in front of a legislative aid and talk about a bill what was important to social work."
The advice they have for current Hornets looking to become social workers? Don't forget to take care of yourself, especially as you work with patients who are struggling; be sure to network; and advocate for your interests when it comes to internship opportunities.
"As far as the studying for those going through it, hang in there. It's a lot to go through," Casazza says. "And be proud when you get there. It's an accomplishment.
Sacramento State's Division of Social Work was founded in 1964 and offers undergraduate and graduate degree programs as well as continuing education programs to the professional social work community. Learn more at the division's website.