MARSHALL RECEIVES NATIONAL AWARD FOR OUTSTANDING PATIENT EXPERIENCE FROM HEALTHGRADES
MARSHALL RECEIVES NATIONAL AWARD FOR
OUTSTANDING PATIENT EXPERIENCE FROM HEALTHGRADES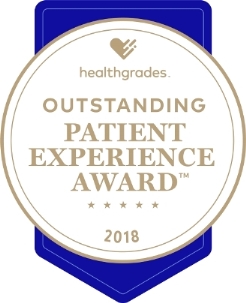 May 8, 2018 — Marshall Medical Center announced today that it has achieved the Healthgrades 2018 Outstanding Patient Experience Award™. This distinction recognizes Marshall Medical Center among the top 10 percent of hospitals nationwide for patient experience, according to Healthgrades, the leading online resource for comprehensive information about physicians and hospitals. Marshall is only one of two hospitals in the area to have received this award. "We are very honored to have been recognized by Healthgrades for the exceptional patient care we give to our community," said Cynthia Rice, VP, Clinical Nursing Division.

Healthgrades evaluated hospital performance by applying a scoring methodology to ten patient experience measures, using data collected from a 32-question patient experience survey of the hospital's own patients. The survey questions focus on patients' perspectives of their care in the hospital. The topics of these questions ranged from cleanliness and noise levels in patient rooms to factors such as pain management and responsiveness to patients' needs. The measures also include whether a patient would recommend the hospital to friends or family.

In order to be recognized by Healthgrades, hospitals must meet eligibility requirements for consideration, which includes clinical performance thresholds in addition to a minimum of 100 survey responses. Nationally, almost 3,000 hospitals met those requirements with 439 hospitals outperforming their peers—based on their patients' responses—to achieve this distinction. Marshall Medical Center's performance places it among the top 10 percent in the nation.

"Every employee and health care provider at Marshall contributes to the overall patient experience and this award celebrates the success of their 'patient first' philosophy," added Rice. "In fact, it's part of our mission statement."

"Patient experience surveys offer important insights about hospitals and their commitment to providing patients with outstanding experience, and furthermore, consumers value that information when making care decisions," said Brad Bowman, MD, Chief Medical Officer, Healthgrades. "Hospitals that have received the Healthgrades 2018 Outstanding Patient Experience Award have received high marks from their most important stakeholders—the patients themselves."

Marshall Medical Center is an independent, nonprofit community healthcare provider located in the heart of the Sierra Foothills. Marshall Medical Center includes Marshall Hospital, a fully accredited acute care facility with 125 beds in Placerville; several outpatient facilities in Cameron Park, El Dorado Hills and Georgetown; and many community health and education programs. Marshall has over 200 licensed practitioners and over 1,500 employees providing quality healthcare services to over 180,000 residents of El Dorado County.