"I Like Being Able to Empower Them to Make the Life They Want"
Posted On:
Written By:

940th Air Refueling Wing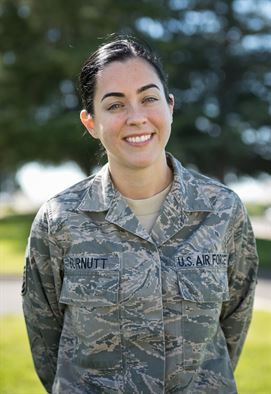 BEALE AIR FORCE BASE, California --
After growing up watching her grandfather, a maintenance Chief Master Sgt., go to work every day and listening to her other grandfather tell Korean War pilot stories, Master Sgt. Kellie Curnutt was inspired by the example her grandfather's set to join the U.S. Air Force Reserve. However, her service to others did not stop there.
"I like helping people, being there for them when they are going through a challenging time," said Curnutt. "They might not see all the options or resources available to them and that's what I do."
Curnutt is a medical technician and serves as the superintendent of aerospace medicine for the 940th Air Refueling Wing's Aerospace Medical Squadron at Beale Air Force Base, California. She has worked at Beale for 10 years, not far from Roseville where her family lives and she grew up.
"Sometimes I wish I went active duty when I was younger, but being a reservist fits well with my schedule," Curnutt said. "It's really nice to be able to pursue outside goals and still serve my country."
Along with her reserve job at Beale, Curnutt completed her undergraduate degree in 2012 and a masters in social work in 2014, both from Sacramento State University. She started as a social worker three years ago and now works at Marshall Medical Center, an independent, nonprofit community healthcare provider located in the heart of the Sierra Foothills.
"I'm part of the advanced illness management team to help those with chronic conditions be aware of treatment options available to them," said Curnutt. "My day to day looks different every day. Although I work in the hospital [Marshall Medical Center] I don't work out of a single office. I go wherever there is a crisis, wherever I am needed."
In her reserve job, Curnutt has the opportunity to do more with hands-on patient care, such as administer shots and take vital signs. As superintendent, she oversees eight medical technicians and helps support them by scheduling and making sure they have the materials they need to do their jobs.
"I really like it here," said Curnutt. "While it is challenging, the people I work with make it enjoyable. My coworkers are friends I get to see once a month. It's like a family."
Curnutt's job and skillset as a social worker help her empathize and keep an open mind, which factors into doing her job better in the reserve.
"Sometimes if a [reserve] member needs a duty waiver and receives the news that their medical condition could prevent them from continuing their military career, instead of presenting them paperwork and sending them on their way, I'm able to approach it with understanding that they have a life outside of here."
In honor of National Professional Social Work month, we asked how she felt to be part of this month's recognition, which she humbly responded:
"I'm more proud of the results of the people and patients I work with," said Curnutt. "Our accomplishment as a whole as social workers. It feels good that together we can accomplish something that helps make a difference in someone's life."